Ozzie Guillen Has Interesting Thoughts on Race, Is Against Affirmative Action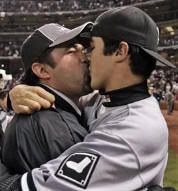 I recently posted a few excerpts from Ozzie Guillen's interview with Sporting News Magazine, talking about how lucky Chicago was to have both him and Lou Piniella in the same town. I was pretty pumped to tear into the article once I picked up the magazine, and it didn't let me down. (Incidentally, SN Magazine has improved tremendously since they changed page formats and printed issues less frequently — there are many more feature stories that are worth reading). In the interview, Ozzie was candid as always, first off expressing his thoughts that Latin players are mentally tougher than other players. Here's why:
"I think the Latin players are smarter than American players in one way: It's hard to play the game when you don't speak the language. And you have to overcome that problem, the homesickness, maybe being criticized by somebody and you don't know what they're talking about, maybe you watch the TV and you don't know what the hell they're saying. … And the competition is getting harder because now you got Korean players, Japanese players, Chinese players … That's why I criticize a lot of teams — because what is the reason we bring Japanese translators and Latinos no have one? Maybe because you have other teammates that are Latino, or one of the coaches? … Is it because there's less Asian players in the big leagues? Or do they have better treatment because they bring fans and TV and revenue to baseball?"
I have to admit, that guy that appears so dumb on the surface, actually has provoked a lot of thoughts in my mind. Why don't Latino players have translators? I think Ozzie hits on a lot of the reasons in his last sentence — the run of the mill Asian player doesn't have a translator, but the superstar Asian player does — because he brings in revenue. Additionally, the cultural transition between Asian and Latino players is much different and more difficult for Asian players. Not to mention, the fact that there are several Latin players on each team makes it easier to adjust. Anyway, we're not quite done. Ozzie was asked whether or not he thinks baseball should create opportunities for minorities, maybe in a similar vein to the Rooney Rule in the NFL. Ozzie's answer:
"I don't believe in the (expletive) minority thing. You gonna hire somebody for your office or your house, you gotta hire the best guy. … I remember when the Marlins hired Jack McKeon, everybody come to me like, "They no interview you?" No. "Wait a minute. You a minority, you the third base coach, they no interview you?" (Expletive) it. No. They don't have to interview me. What's the reason? They don't think I"m the best guy, whatever it (expletive) was, why they have to interview me just to please other people. (Expletive) it, if you don't believe what I can do good for you, I respect that. But don't talk to me because I'm a minority. I don't believe in that (expletive).
As long as you're saying things that aren't so dumb as to be anti-National, I appreciate guys who speak their minds. It's also a real pleasure to read the interview in Ozzie's voice, filling in the blanks with the cuss word that you know fits in. That guy is such a Hall of Famer, I love him. And he's right on about the minority thing too as far as hiring the best guy, regardless of race.