Data Disputes Tim Donaghy's Claim About Dick Bavetta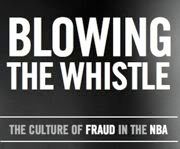 The case of Tim Donaghy is a difficult one to analyze. The guy was thrown in prison for betting on games he officiated, shamed, disgraced, and now he's written a book about the corruption by officials in the NBA. Skeptics will say his claims confirm what they have believed for quite some time, that the NBA officiating is sketchy because of its subjective nature. Others will say that Donaghy is writing with revenge on his mind and that he doesn't care whose reputation he sullies while trying to make a buck. I think the truth lies somewhere in between; some referees may favor certain teams or individuals and it may be manifested through their calls, but that's not the case for every official and it doesn't mean the biased ones do it in all situations. One of Donaghy's claims was that referee Dick Bavetta bragged about being the ideal "company man" for the NBA and that Bavetta kept games close. The fine gentlemen at True Hoop have done some quality research that would dispute Donaghy's assertion:
Bavetta officiated 69 games between the beginning of the 2003-04 season and the end of the 2006-07 season where the closing betting line was 10 points or greater. The big underdogs in those contests went 25-44 against the spread — a winning percentage of 36.2 percent. In other words, teams that were expected to be beaten badly were far more likely to be embarrassed when Bavetta was on the floor.
Donaghy may have been outstanding at fixing games he reffed, but he's apparently incorrect regarding his assertion about Dick Bavetta. I do believe there was some accuracy to what he said about Bavetta's desire to be in the spotlight and Steve Javie's dislike of Allen Iverson, but that doesn't mean all the games they reffed were fixed. The one thing that I still have a tough time accepting, as do many, is the notion that the '02 Western Conference Finals were officiated fairly. The refs did everything possible to help the Lakers beat the Kings, no doubt about it.
Check out more great info at True Hoop as they further discredit Donaghy's claims.