Dwyane Wade Feels Like the Heat's Being Left Behind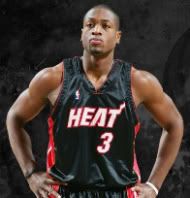 This NBA offseason, more than any other that I can remember, has solidified the notion that only a handful of teams are competing for the championship. For the most part, it's the Lakers, Spurs, Nuggets, Celtics, Cavs, Magic, and everyone else who's just playing for a 4th seed or lower. The Miami Heat are not in that group of contenders despite having one of the best players in the league in Dwyane Wade. This notion has become clear even for Wade, who when asked by Jorge Sedano on 790 the Ticket, said his team is being left behind:
There's a lot of teams that got better but they got better real fast. But, one thing I've came to realize is that Miami can never count out Pat Riley, you never know what he can cook up in the lab so, we're going to be patient and I'm not going to worry about it. I'm going to let him do his job and I'm going to do my job and my job is to come out next year and perform and lead my teammates, whoever's on my team to as good of a season that we could have."
Wade expounded upon that notion telling the Miami Herald that he doesn't want to take a step backwards and that he's looking forward to the summer of 2010 when he can opt out of his contract and become a free agent. I can understand why Riley's taking it slowly — they're not going to win this year and before he makes any signings he needs to see how Beasley and Chalmers develop so he can properly assess the team's needs. I'm glad Wade recognizes that and hopefully he won't get too frustrated losing in the first round again.
The question then becomes pretty simple: does Wade go elsewhere to form a powerhouse with another star or does a good front court player like Bosh, Boozer, or Amare come to Miami to team up with him? I think Wade should be patient for this year and give Riley a year to see what's needed. But if he really wants to guarantee some success, he should pair up with LeBron James next offseason — they'd be darn near unstoppable.