I Can't Wait for Spurs/Cavs Game 1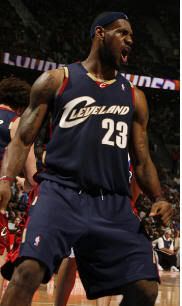 I think this is actually important enough to mention — the fact that I'm eagerly awaiting the first game of the NBA finals. It's not the layoff necessarily that has me antsy. Nor is it the fact that baseball is the only other major sport playing games right now — I highly enjoy watching baseball on a daily basis, even if it's game 53 out of 162. But I really think it's significant and worth mentioning that I'm truly intrigued by the matchup; I'm excited to watch Game 1 of the NBA finals.
No offense to fans of the teams who have been in the finals the past few years, but I wasn't really interested in those games. This year however, is different. I will be tuning in because I want to see what LeBron will do. I want to know how good he is. I want to see if he can repeat his Game 5 performance from the Conference Finals. I want to see how well he does against the Spurs. I want to see how much better the Western Conference is than the Eastern Conference — or if it isn't at all. I want to know if LeBron will begin his legacy of greatness.
I don't know how you feel about the NBA, the playoffs, or the finals, but I do know that I'm genuinely excited and eagerly awaiting LeBron's arrival on the scene. And for some reason, I think that's a good thing for the NBA.