Suns Loss Continues Their Strange TNT Losing Streak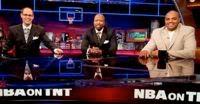 One of the strangest, most bizarre streaks I've seen continued on Thursday night when they Suns lost to the Trail Blazers in Portland. The loss ran Phoenix's losing streak in games televised on TNT to 17. To make the loss look even worse, the Suns were up by 11 entering the fourth quarter, and up 83-70 after Jared Dudley made a shot to open up the final quarter. When Dudley hit a long jumper midway through the fourth to put them up by six, I thought to myself that this was the game Phoenix would end the streak. So much for that. Portland immediately went on a 10-0 run and wound up winning 105-102. How can this bizarre losing streak possibly be explained? Let's ask Suns GM Steve Kerr:
"It's bizarre," Kerr said. "What are the chances of losing 16 in a row? I know the competition's tougher but it's not like we don't beat good teams on ESPN. There's no explanation. "Let's pin it on Charles. He brings that negative vibe all the time."
Without being able to see Kerr's expression, I'm guessing he was being sarcastic. Part of the losing streak is attributed to playing weak competition; Phoenix wouldn't be losing 17 in a row if they were playing the likes of Memphis and Oklahoma City on TNT. But even against good competition, they still should win a few games. Another note is that the team has been on the road for 11 of the 17 games which makes winning more difficult. Lastly, the team tanked once they acquired Shaq and altered the team's gameplan. The streak began shortly after he was acquired. Then again, it's continued this year even since he was traded. I don't know what the reason is for this phenomenon but the Thursday night losers need to start winning in primetime.