Tony Stewart Loves Him Some Women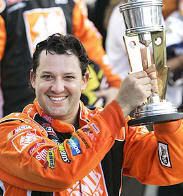 Tony Stewart gave a pretty R-rated interview to Rolling Stone that Deadspin was kind enough to bring to my attention. I've already expressed my thoughts on Tony Stewart and his badass ways, so no surprise he was pretty revealing with Rolling Stone. Some of the highlights (beware, strong language):
The only thing Stewart enjoys more than a race car and a fight, it seems, is women. Over the course of a race weekend, he's approached by dozens of them, each more long-legged, doe-eyed and blond than the last. Inside the NASCAR bubble, these gals are called "pit lizards," and they prowl the inner sanctum at tracks throughout the year.

"My parents are afraid my dick's gonna rot off," Stewart says.
…
"Pussy, money and race cars. That's pretty much all I care about."
Alternate title for this post – Tony Stewart: American Badass. Talk about living the American Dream, I think he has just about everything wrapped up. And it's only another year before he becomes a team owner, too. Does it get better than that?