Billy Gillispie and Kentucky Is the Perfect Marriage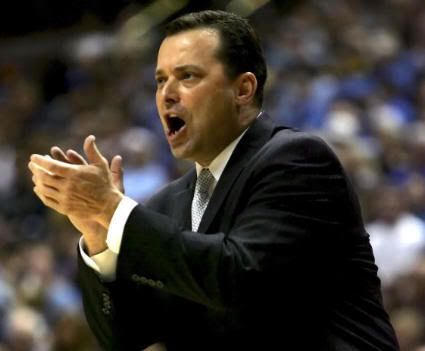 Even though I'm not a Kentucky fan, let me take the time to explain why UK made a brilliant move in hiring Billy Gillispie, as the current reports suggest.
To start, Billy Gillispie coaches Texas A&M in basketball. Basketball! Not football mind you, but basketball. I guarantee you most people didn't even know A&M had a basketball program. No joke, they have as much of a reputation in basketball as I do in Wrestlemania. In fact, the year before Gillispie joined the program, they had as many wins in Big 12 play as Larry Brown Sports University did — zero.
Think about this, Billy Gillispie took a team that was 7-21 (0-16) the year before he arrived, and turned them around for the '04-'05 season with a highly respectable 21-10 (8-8) mark, that included an 11-0 start.
Two years ago, Gillispie's second on the job, A&M ended up 22-9 (10-6), which was good for fourth in the conference, the highest Big 12 finish in school history at that point. More notably perhaps, was the fact that Billy Gillispie had in only two seasons, led Texas A&M to the tournament for the first time in 19 years. Their outcome you ask? I only have to ask my buddy Rey, who accurately predicted that the 12th seeded Aggies would knock off the 5th seeded Syracuse Orange, who were led by Gerry McNamara, and were fresh off a Big East conference tournament victory.
Finally, this past season, Texas A&M truly burst onto the scene as an emerging power in college basketball. The Aggies went an impressive 27-7 (13-3), which allowed them to receive a three seed in the tournament. They reached the Sweet 16 before losing to Memphis in a nail-biter.
In only three seasons as head coach of Texas A&M, Billy Gillispie took a team that was a pitiful 0-16 in Big 12 play, and turned them into a force that finished 13-3 and second in the conference.
If you're still not convinced that Billy Gillispie is an amazing coach, here's more proof. In his first season at UTEP, '02-'03, the Miners were a disastrous 6-24. Their next season however, '03-'04, they went 24-8, capturing the WAC title despite finishing last the year before.
After a turn-around like that, it's easy to see why Texas A&M pounced on Gillispie. It's also should be pretty easy to see why Billy Gillispie is the perfect fit for one of the most high profile coaching jobs in the entire country, head basketball coach at the University of Kentucky.
If Billy Gillispie could turn a horse shit program like UTEP into a winner, and a dog shit program like Texas A&M into a major player, imagine what he'll be able to do with one of the most storied programs in college basketball history.