Steve Lavin Disagreed with Tom Izzo's Endgame Strategy Against Tennessee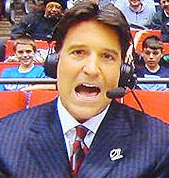 At the end of the Michigan State/Tennessee Elite Eight game in St. Louis, the Spartans faced a decision. Raymar Morgan was at the free throw line with his team up 70-69. There was 1.8 seconds left on the clock and Morgan was preparing to attempt his second free throw. The question was whether Morgan should try and make the free throw to give the Spartans a two point lead or if he should miss it. The logic behind intentionally missing the free throw was that Michigan State could either claim the rebound and hold on for the win or there could be a mad scramble for possession that lasted 1.8 seconds, giving Michigan State the win without Tennessee ever having a crack at a Hail Mary. Because Tennessee was planning to call timeout had Morgan made the free throw, the only scenario with an upside was missing the shot intentionally.
Morgan missed, Brian Williams of Tennessee rebounded and called timeout, allowing the Vols a chance at a miracle three. They missed badly and Michigan State got the win. Tom Izzo unquestionably made the right decision here because the only scenario presenting an advantage for the Spartans was having Morgan miss — which he did. Although the outcome wasn't what Michigan State hoped for, it was still the right move. Even Kansas coach Bill Self agreed with the move afterward on CBS saying it's a 90% chance Tennessee winds up shooting a three so that second free throw doesn't matter — might as well try and miss to run off the 1.8 seconds without giving the Vols a chance to win. Self knew that, Izzo knew that, heck even I knew that, but there's one person who didn't agree with the move; he's a man with a basketball pedigree and a coaching background — he's Steve Lavin. Here's what the former UCLA coach said on ESPNEWS when asked to break down the decision (keep in mind, the play was running on TV as he talked so he gave a little play-by-play too):
"Well, this actually led to Tennessee having a chance to go length of the court … Hail Mary it's not going to go as Michigan State moves on … so I'd say in hindsight, Tom Izzo wouldn't have done that."
After hearing Lavin's lame Monday morning QB explanation, anchor Steve Weissman answered in a somewhat confused tone, "alright." Exactly. Umm, yeah Lavin, just because the miss didn't play out in Michigan State's favor doesn't change that this was the right move. In one sentence of analysis, Steve Lavin explained why Tom Izzo and Bill Self are in their positions while he's analyzing games (incorrectly).
Lavin either has the itch to get back into coaching or some schools are targeting him because his name has been floated as a potential candidate for several vacancies including but not limited to DePaul and St. John's. If you check out the dude's wikipedia page, you'd think he were the second coming of John Wooden. What they're leaving out is that he had the second lowest career winning percentage of any coach since Wooden, that the longer he stayed the significantly worse the team became, and that he couldn't get past the Sweet Sixteen with a team that featured four NBA players in its starting five (Earl Watson, Dan Gadzuric, Matt Barnes, and Jason Kapono). That also leaves out how the Bruins suffered some of their most embarrassing losses ever under his watch. Oh yeah, he's also Baron Davis' favorite coach. Lavin may have been a heck of a recruiter but he's obviously not much of a strategist. Just wanted to set the record straight on that point.