Lou Holtz: USC Penalties Were Unfair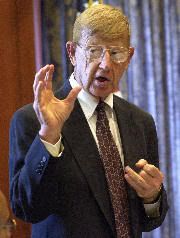 When USC was penalized by the NCAA, the initial reaction from most people was that the Trojans were hit harder than any school since Southern Methodist. Some people felt the punishment was warranted while others found it to be excessive. USC is trying to appeal some of the penalties and is saying that the punishment does not fit the crime. While Pete Carroll has been singing this tune the loudest, a surprising voice has joined the chorus.
Former Notre Dame coach Lou Holtz joined The Wiz of Odds podcast to discuss many of the prevalent issues in college football. One of the questions host Jay Christensen asked was if the sanctions against USC were fair. Here was Holtz's response:
Based on what I read, I would say 'no.' But then again, I didn't read all the other things. Here's why I say 'no.' Because the only one that they really came out on football was with Reggie Bush and it all had to do with an agent. It did not have to do with a coach paying him money, alumni paying money. I did not read of any other player involved along that line.

But here's why I think the NCAA went so harsh on them, because of university control. I think it was basketball, it was football, and I want to say it was tennis. I know it was a third sport that was all in problems with the NCAA. The athletic director, the university, they should have known what was going on and they didn't have enough control to make sure it was run honestly. When you have lack of university control, that is the most serious thing with the NCAA and I think that's why they acted so harshly.

If there was somebody other than Reggie Bush cited, I have not been able to find it or read about it other than Reggie. I think to punish everybody that serious because of one player who was involved with an agent, I don't think it was fair. But, I can understand it with a lack of university control."
Alright, time to analyze. So where do Lou's remarks come from? I'm saying one of a few places.
1) He's ill-informed about the subject matter: Pete Carroll was cited for blatantly hiring excess coaches, and one of the coaches lied to the NCAA regarding knowledge of Bush's situation. This wasn't just about one player doing wrongly.
2) He's trying to show his objectivity as an analyst: Most people know Lou Holtz as a Notre Dame coach and think of him as biased. If he defends rival school USC, he comes off as more objective, less of a homer, and more credible.
3) He's trying to protect big programs: Lou knows what it's like on the inside and knows how shady it is behind the scenes. He's a coach and looking out for his own kind (which he's been known to do in the past), including his son who is at USF. He's trying to protect programs because the NCAA is everyone's enemy.
That's where I think the comments may have come from. What about you? And if you have a chance, check out The Wiz's podcast and listen to the entire thing. Ride it out to the end to hear Holtz's response when asked which one of his partners would he save if he only had one life jacket, Rece Davis or Mark May. Hilarious question.
Sources:
Wiz Podcast: ESPN Analyst Lou Holtz [The Wiz of Odds]