Don't Let Kenneth John Gibson Coach Your Kid in Soccer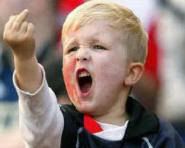 What is it with people sometimes? I just don't get it. The lawyer for the man soon-to-be-mentioned says he's a law-abiding banker with no criminal history. Is that so? Then what the heck is up with him trading child porn???
Kenneth John Gibson was arrested by FBI agents Friday. Investigators say he possessed sexually explicit images of children as young as three. The FBI says Gibson admitted to agents earlier this month that he had traded child porn online.
To think, this freakazoid was coaching kids in soccer! Imagine, all those times he was running kids through cone drills he was picturing your son naked.
Three year olds? Three year olds dude? What about three year olds could possibly turn a man in his forties on?
The best part is the lawyer's solution is for Gibson to see a psychologist. Yeah, I'm sure that'll take care of it. That's the effin problem with our legal system — the lawyer doing a great job would result in a serious disservice for the country.