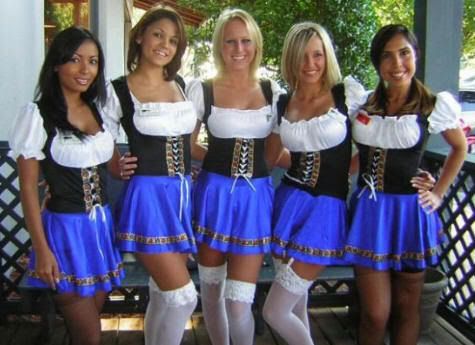 This definitely qualifies in the "you have to be kidding me" section. First it was the NFL to London, and now, it looks like the NFL may take its game to Germany. From Peter King's Monday Morning QB column at SI
Look for Kansas City to play in Germany against a still-to-be-determined foe — probably in 2008. My guess is the opponent will be Buffalo, one of the non-division foes the Chiefs are slated to play at home in 2008, but we'll see. "I think we're going to Deutschland," club president Carl Peterson told me last week. "All teams are eventually going to play a game outside the United States under the league's current plan.
But from the way King describes it, this is just Commissioner Goodell's way of dropping "trial balloons." Drop a little tip here, a little tip there, see what the reaction from the public is before making a decision. Well, let me be one of the first to weigh in.
How about no. There you go — that's my reaction. I'm not interested in seeing the NFL move to Europe. They already have NFL Europe. No, this isn't me being short-sided or narrow-minded. It's me being a fan who'd rather have the games played on American (artificial) turf. It's a matter of pride. It's the same reason I don't want Man. U and Liverpool squaring off in a game that matters at the Rose Bowl — that's a British thing, let their fans have it. Exhibitions — OK. Real games — No. That's just past my limit. I'm not an owner looking to gain millions by taking my product global. I'm a local fan who's worried about losing personal touch with his team and league, and unfortunately we're getting closer and closer to that point.
Google+