Cardinals Need to Stop Messing Around, Sign Kurt Warner Already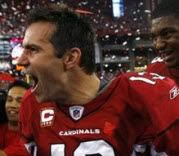 Although I made the point around Super Bowl time that I don't think Kurt Warner's a Hall of Famer yet, I still recognize that he's one of the best quarterbacks in the league. He took the team to the Super Bowl, stepped ut up in the playoffs, and clearly outplayed Matt Leinart in the pre-season by a vast margin. Putting all that together, I can't understand why the Cardinals are playing hardball with Warner and his agent.
As we've heard, the sides are differing on the amount of annual salary Warner should make. Kurt wants to earn the average of the top five QBs in the league — a figure worth around $14.5 million — while the Cardinals supposedly were offering only around $10 mil. Look, this is exactly what makes the Cardinals the Cardinals, and it's exactly why they never won prior to this past season. How hard is it for them to part with an extra $8 mil and just sign the guy? He's earned it, he should be worth it, and you guys need him. What are you going to do, surrender all the positive feeling and fan buzz you generated with your Super Bowl run by letting this guy go? How could you possible let the fans down like that?
I'm guessing that Warner and his agent are scheduling a visit to San Francisco to make the Cardinals nervous and that he has no intention of actually going to SF. Still, it's an excellent tactic to gain leverage in negotiations. Should Kurt Warner go to the Niners, that would be addition by subtraction, and it could make the 49ers the division favorite. I don't think he'll do it, but hopefully this will cause Arizona to cave in and pay the guy. He's earned it, he'll be worth it, and you can't possibly come back to your fanbase following a Super Bowl run and give them Leinart and a 5-11 season. Unless you're the Cardinals, in which case anything's possible.