Ex-UCLA QB Drew Olson Is an NFL Europe Star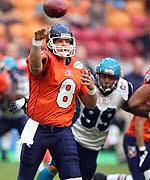 I had no idea until I saw it on the crawl somewhere, probably on ESPNEWS. And I know I'm totally opening the door for Trojans out there, but this cannot go unmentioned. Over the weekend, or last week, or whenever the hell they played their last game, Drew Olson led the Amsterdam Admirals to a 41-31 win over the Hamburg Sea Devils. Olson threw for 304 yards and 3 TDs, and ran for another score. Sounds like he's back to his UCLA form.
And for that matter, Drew was quite underrated with the Bruins. He was second all-time with 8,532 yards, 664 completions, and 67 touchdowns. And yes, he's good enough to be a professional quarterback.