LenDale White: Titans Struggled Because They Didn't Give me the Ball Enough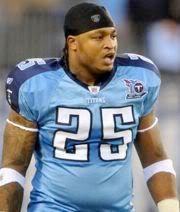 The Titans struggled last season going 8-8, a year after they went 13-3 which was the best record in the NFL. Running back LenDale White's carries dropped significantly from 200 in 2008 to 64 in 2009. At the same time, fellow running back Chris Johnson's carries increased from 251 in 2008 to 358 in 2009, and Johnson produced one of the best all-time seasons by a running back. Regardless, LenDale explained to Petros and Money on FOX Sports Radio (via Pro Football Talk and Sports Radio Interviews) that he feels like the shift away from himself towards Johnson resulted in Tennessee slipping last season:
I think what happened was in Tennessee they probably got a little too carried away with the Chris Johnson thing. The year before that we were 13-3 when I had two hundred carries and we split the rock. Chris went to the Pro Bowl and we had the first round bye, they did things different the next year and we struggled to make the playoffs. It is what it is. It is the same offense down here in Seattle. I am very familiar.
It's interesting to note that White brought this up on his own in response to a question about Seattle's offensive system. He also reiterated the same point later in the interview, saying "If we would have kept things the same, if we would have just kept running the ball being the team that we normally would be, I think things would have worked out." While I respect LenDale's opinion and appreciate his confidence and attitude, I completely disagree. Of every reason why the Titans struggled last season, LenDale not getting the ball enough and Chris Johnson getting it too much is probably last on my list. Much higher up would be the inability of Kerry Collins to make plays, losing Albert Haynesworth to free agency, the multiple injuries to the secondary early in the season, and switching to Vince Young too late in the season. While the Titans did get carried away trying to get Chris Johnson to 2,000 rushing yards in their last game of the season, Johnson's stellar play is one of the few reasons they weren't worse than 8-8 last season.
Sources:
LenDale White has an interesting theory about the '09 Titans [Pro Football Talk]
LenDale White: "I think it was just time for me to move on." [Sports Radio Interviews]