Minor League Kicker Beat out Mike Vanderjagt for a Job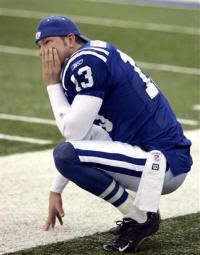 Sure, he may be just about the biggest jerk ever — especially for a kicker. But I'll be damned if Vanderjagt wasn't one of the best in the game not long ago. I mean wasn't there a time when he was like 37 of 37 on field goals? I guess the NFL has no use for kickers with a career 86.5% conversion rate. And that's fine by me. Taking it from Adam Schefter
Very quietly, veteran kicker Mike Vanderjagt worked out for the Giants last month. But the Giants opted to sign Marc Hickok, who previously kicked in arenafootball2, the minor league for the Arena Football League.

Vanderjagt's agent, Gil Scott, said his client's workout for the Giants went well; Vanderjagt connected on 11 of 13 field-goal attempts. It was just that the Giants opted to go with the younger — and much less known — Hickok.

Now Vanderjagt, the most accurate kicker in NFL history, is a man without a team. This offseason, he has worked out for the Saints and Giants, but hasn't received any offers — a baffling development.
Talk about a collective blackball. I gotta figure that any league that employs Dave Rayner has to have a place for Mike Vanderjagt, right? But seriously, how pathetic is that? He got beat out by a minor league Arena Football player! Paybacks a pitch, Vanderjagt.