Worse QB Situation: Raiders or Lions?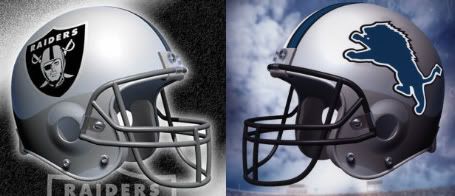 The Raiders sure have found plenty of ways to provide us with laughs this season, centered largely around the dysfunction of the organization. At least the team was competitive under Lane Kiffin — now they've become an embarrassment without him. Their dysfunction has been so distracting that it's even made many of us forget the fact that the Lions are still winless, and that the Bengals and Chiefs have fewer wins. The Bengals are in dire straights because Carson Palmer is hurt. The Chiefs are pretty horrible, but Tyler Thigpen did put together a productive game last weekend. And that's what leaves us with the Raiders and the Lions.
Detroit entered the season with interception and yardage machine Jon Kitna as their quarterback. He has a back injury and is done for the year. Backup Dan Orlovsky, despite lacking a sense of space on the field, at least kept the team competitive the past few weeks. Unfortunately for Detroit, he's now out with a thumb injury. They were forced to sign Daunte Culpepper earlier in the week who hasn't played all season, and their other option is Drew Stanton — a second year player who their coach said would "embarrass" himself if he played. The Raiders are down to backups after starter JaMarcus Russell is now being deemed as doubtful because of knee tendinitis. That might not be a bad thing considering Russell threw for a paltry 31 yards last weekend. Or maybe it might be considering the backup options are Andrew Walter and Marques Tuiasosopo. So, which team has the worse QB situation, Raiders or Lions?