Tony Romo Reaches Sectionals of U.S. Open Qualifying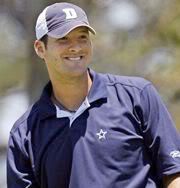 Tony Romo's success story in the NFL is pretty well documented (although the success part would be debated by many). Much like Kurt Warner, Romo was an undrafted free agent who signed with the Cowboys before eventually taking over the team's starting job from Drew Bledsoe. Before making it as a starting quarterback, Romo made attempts to qualify for golf tournaments such as the Byron Nelson Championship and the U.S. Open. Romo was planning to attempt to qualify for the Byron Nelson this year but his tee time conflicted with a Cowboys practice so he decided to skip the golf dream. Romo however is trying to make it into the U.S. Open this year as a qualifier and has moved one step closer to reaching that point.
As Todd Wright mentioned on Sporting News Radio, Romo won the a third playoff hole to become the sixth golfer from his local qualifier to make the sectional qualifier. Romo finished his 18 hole round at 2-under 69 and left the course before being called back to play in the playoff. Romo parred all three playoff holes and won when his opponent bogeyed the third playoff hole. He now moves onto sectional qualifying with a chance to become one of 90 sectional qualifiers who will make the U.S. Open field of 156. What's the best part of all? Romo won't have to miss any practice time with the Cowboys to participate in the sectional qualifying! Can you imagine if he does make it into the U.S. Open?
Sources:
Dallas Cowboys quarterback Tony Romo advances in U.S. Open golf qualifier [Dallas Morning News]
Romo pars playoff holes, moves on [Calvin Watkins/ESPN Dallas]