Caps Make Long-Term and Expensive Investment in Nicklas Backstrom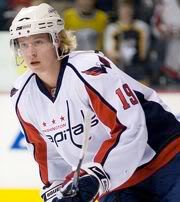 Even though the Washington Capitals were eliminated in the first round of the 2010 NHL Playoffs they have still given us something to talk about. The Caps announced Monday that they would be making another long-term investment by signing center Nicklas Backstrom to a 10-year, $67 million contact.
Hockey salaries rarely make the list for being pricey, but the Caps are already carrying Alexander Ovechkin's salary of $124 million over 13 years, so what's another $67 mil to them? The Caps are locking up one of the players who led them to their amazing regular season (maybe next year they won't lose to an eight seed).
This is a good investment for the Caps. Backstrom and Ovechkin are now guaranteed to play together for a long time, which I'm sure makes other teams around the NHL cringe. Backstrom had a great year for the Caps with 100 points — 33 goals and 68 assists on the season. He also had an impressive seven multi-goal games in 2010. Another perk about Backstrom is that he has never missed a game.  Hopefully saying that won't jinx his perfect attendance. Overall, the Caps are making a great investment in this young player that will prove to pay off in the long-term.
Sources:
Caps Signs Nicklas Backstrom to 10-year, $67 M Deal [Washington Post]