Blackhawks Return to Stanley Cup Finals for First Time Since 1992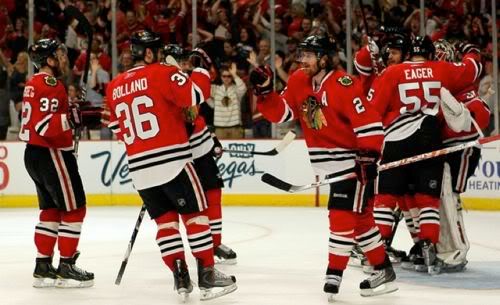 The Chicago Blackhawks wrapped up the Western Conference by sweeping the San Jose Sharks in their best of seven series, winning 4-2 on Sunday. The win sends Chicago to the Stanley Cup Finals for the first time since 1992.
Dustin Byfuglien became the game's hero once again scoring on a power play in the third period to give the Blackhawks a 3-2 lead. Kris Versteeg scored the empty net goal with 42 seconds left to seal up the win for Chicago. Now that the Blackhawks have gotten past the Sharks, they await the winner of the Eastern Conference. The Flyers have a 3-1 series lead on the Canadiens with Game 5 set for Monday night.
If the Flyers advance the Blackhawks will face one of the toughest defenses in the NHL. If the Habs pull of the comeback, they will have a huge amount of momentum behind them heading into the finals. Plus, a Montreal win would produce a will be a true Original Six showdown — you can't get much better than that.
Personally, I see the Flyers winning the East and going up against the Hawks for the Cup. As I said at the start of the playoffs, I see the Blackhawks taking the Stanley Cup back to Chicago because they are a young, hungry team. But for right now, Chicago is celebrating their sweep of the Sharks and a trip to the Cup.
Photo Credit: Maxx Wolfson/Getty Images