Sports Illustrated Places High School Sophomore Baseball Player on Cover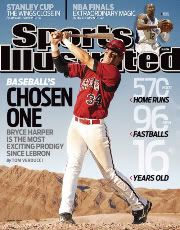 I had some reluctance in even doing this post because I fear that I'm playing right into Sports Illustrated's hands by mentioning their cover this week — the more buzz about the issue, the more people will want to buy it and purchase or renew subscriptions, the more it reinforces poor behavior by SI. Let it be known however, that I talked about their cover when Zach Johnson got the snub in favor of Tiger Woods following the Masters, and I talked about it recently when Royals pitcher Zack Greinke made the cover. To get back to it, SI decided to place a 16-year-old high school sophomore baseball player you nor I have ever even heard of on the cover of its storied magazine. The athlete prodigy to whom he's compared in the article is LeBron James. I'm not sure exactly what SI's trying to accomplish here — to prove to people that they were "first" in on the kid when the guy strikes it big, or to just start dumping all the hype and corresponding pressure on him so that they're the first to ruin him?
I'll admit that I went to go read the story because there was an element of shock to it, almost like hearing that a golf magazine put a noose on the cover or something. What's so damn special about a kid who might not even be able to drive, considering he's in a sport where most players need years of development in the professional ranks to blossom and that he's so far away from the top level. There are two points I'd like to make here. The first is that I'll read the magazine and talk about it anytime they have a good article — it can be something simple on a player like Albert Pujols who has earned the spotlight; I don't want them to feel as if they need to "shock us" in order to get extra eyeballs. Secondly, I think it's downright despicable that they're using their powerful platform to promote and hype up some 16-year-old kid who could wind up discovering weed and booze by July, or worse yet, cocaine, crack, and tats. I'm sick of the A-Rods and Josh Hamiltons who couldn't handle all the pressure and became either extreme unlikable or pissed everything away. If this guy really is that much of a prodigy, then I don't appreciate respected outlets like SI ruining him at such a young age. At least let him win a Rookie of the Year award before you start singing his praises. How is it the that kid gets a cover while Jorge Posada wins four World Series rings, hits about 25 bombs and drives in around 90 runs a year for a solid decade, and never makes it into the front page? Something about that just isn't right.
Oh yeah, and I can't let this kid's family get away without criticism. They're equally responsible as SI for allowing this to happen — all they have to do is say "no" and the story doesn't come out. Maybe they're blinded by the fame, the luster, the hype, the buzz, and the money that can come with being on the cover of a magazine. It's unfortunate because they've already lost sight of what's most important for their son in the long run.