Braun: Brewers Didn't Expect to Win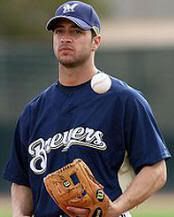 For anyone who's played team sports, you know that attitude is just as important as talent. If you're well-prepared to win, focused on winning, and believe you're going to win, there's a good chance you're going to win. But sometimes teams really don't approach games with a winning mentality, and sometimes they're just going through the motions. Maybe it's because of money issues, maybe because the team's performance isn't all that important to an individual, or maybe because partying is more important than winning. Whatever it may be, resident LBS stud Ryan Braun felt that his team didn't expect to win this weekend.
"I almost felt like this series, we didn't expect to win," Braun said after the Brewers dropped their fifth consecutive game and ninth in a row on the road.

"We were competing; I know everybody tried hard. But it's not about trying hard. You've got to expect to win. I almost feel like we never really expected to win any of these games. I just kind of had that feeling.

"It's just a feeling. Every time we were winning, I just didn't feel we expected to win. It was like we were just content to be there and compete. I don't think we necessarily expected to win."
And why do we care what Ryan Braun says? Because he's one of the best hitters in all of baseball, and he went deep on possibly the best starting pitcher and best closer in the world over the last two days. And he couldn't hit off of yours truly in high school, going 0-for-4, and every time I see him go deep it's a swift kick in the ass for my self-esteem. But honestly, what he describes could be a reality. What he's talking about is the same reason I didn't have the Rays finishing ahead of the Orioles even though I thought they had more talent. Just having good players is one thing, proving you can win is another. And Braun is also talking about guys stepping up against the best competition, showing you belong with the big-boys like the Red Sox. Maybe that is the problem with the Brewers because they certainly are better than what they're doing.