Derek Lowe Already Makes the Dodgers Miss Him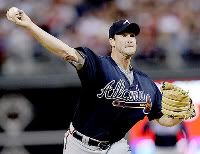 I guess there are two sides to this issue and I should wait to see what the new members of the Dodgers' pitching staff do before I say they miss him, but it's hard to see a two-hit shutout over eight innings and say a team couldn't use it. Derek Lowe was brilliant in his Braves debut, shutting down the defending World Series champion Phillies for eight innings. He allowed just two base runners all game, both reaching on ground ball singles. Lowe also got four runs of support in the first two innings — something he hardly ever saw with the Dodgers. A big part of Lowe leaving the Dodgers was him sensing that the team didn't appreciate him enough. I completely agree.
It was only last week that an article in the LA Daily News praised Colletti for his off-season moves, including letting Derek Lowe walk as a free agent to sign an "exorbitant" four-year $60 million contract with the Braves. I had an email exchange with the writer who later admitted she should have elaborated and said that the contract was pricey given Lowe's age (he'll be 40 by the time the deal runs out). That further gave me the sense that the guy is nowhere near as appreciated as he should be. Lowe is and has been one of the top pitchers in the NL the past four seasons and is as consistent as they come. Without him the Dodgers wouldn't have sniffed the postseason last year and they would have been bounced by the Cubs.
Too many people are overlooking Lowe's departure when envisioning success for the Dodgers this year. I think Lowe's on a mission to prove how valuable he is because the people in LA don't seem to see it. I said it from the start that I'd rather have Lowe over someone like A.J. Burnett any day. He's part of the reason the Braves need to be taken every bit as seriously as the Phillies and Mets are as a contender to reach the World Series. Believe me. Oh yeah, and Garret Anderson's the other reason. (Just kidding).