Edwin Encarnacion greeted with stuffed parrot in Yankees dugout
Edwin Encarnacion is starting to heat up in the power department for the New York Yankees and now has the proper dugout welcome after home runs.
Encarnacion on Wednesday had his third straight 2-hit game for the Yankees against the Twins. In the top of the ninth, he hit a solo home run to put the Yankees up 10-7, which ended up being the final score.
30 trips around the bases for the . pic.twitter.com/71zF4HJrYF

— MLB (@MLB) July 25, 2019
Upon entering the dugout, he received a stuffed parrot:
Do you think the parrot flew in the team plane or beside the team plane pic.twitter.com/i485NxDxuM

— Cut4 (@Cut4) July 25, 2019
Encarnacion said after the game the toy parrot was Gio Urshela's idea.
What's the story with the parrot? Going back to 2013, Encarnacion began circling the bases with his right arm raised following home runs. That was believed to be as a nod to an adjustment he made at the plate where he kept his right arm on the bat on follow-throughs, which led to his success. Toronto Blue Jays fans at the time said it looked like he was holding an imaginary parrot up on his arm as he circled the bases, which led to the funny phrase "taking the parrot for a walk" to describe Encarnacion's home runs.
Here's the original GIF: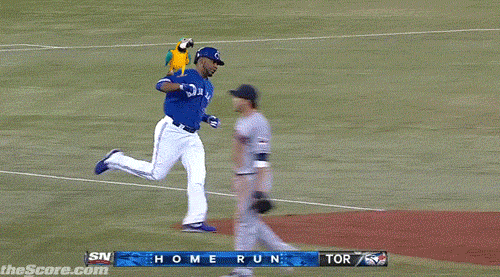 Six years later, Encarnacion is still taking the parrot for a walk when he clubs his home runs. He's up to nine home runs with the Yankees and 30 overall on the season. Encarnacion now has eight straight 30-plus home run seasons.