Edwin Encarnacion takes the parrot for a walk – greatest home run GIF ever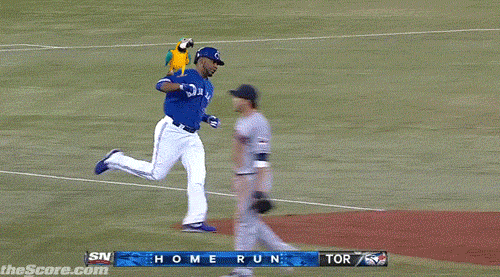 This amazing GIF of Edwin Encarnacion taking the parrot for a walk was featured on Reddit Baseball Tuesday, and I can't stop watching it.
As best as I can tell, "taking the parrot for a walk" is a great saying in Blue Jays circles to describe it when Encarnacion hits a home run. Encarnacion already has 14 this season as a follow-up to his breakout 42-homer season last year.
Some commenters at Reddit believe the phrase originated on the Blue Jays telecasts.
The folks at Drunk Jays Fans have been referring to Encarnacion home runs that way since the beginning of May, and they even linked to the above GIF earlier in the month. They say site contributers Archi Zuber (@Archizuber) and Scott Johnson (@ScottJohnson48) were the ones who created the GIF.


When Encarnacion hits a home run, he circles the bases with his right arm cocked and his elbow up. Some people believe he does that because he is just getting prepared for all the high-fives he'll be doling out, but a story by Jack Moore at Sports on Earth written earlier this month suggests another reason for the bizarre arm angle.
According to Moore, Encarnacion made a big adjustment to his swing before the 2012 MLB season. He began keeping his right arm on the bat on his follow-through whereas previously he let go of the bat with the arm. Moore writes:
"You can see Encarnacion holding his right hand — the one he used to drop off the bat — up at his shoulder as he circles the bases, serving as the perfect reminder of the adjustment that has breathed new life into his career."
Whatever the reason for the cocked-arm trot, this walking the parrot GIF is amazing. I hope we'll be hearing that phrase every time Encarnacion hits a home run.