I Thought Joe Torre Had More Class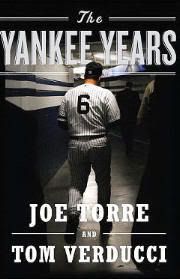 Tom Verducci wants to make it clear that the book he has co-authored with Joe Torre is a third person narrative, not a tell-all by Torre. Fine. Verducci says you need to read the book to understand the context of the quotes that have been revealed. Fine. He's trying to sell a book, what else would you expect? But someone please tell me how you can possibly downplay the reports that say Torre says Yankees GM Brian Cashman betrayed him and that Yankee players called A-Rod, "A-Fraud" in the book. If Torre doesn't have something to say, or his side of the story to tell, then why did he co-author a book? Why is he going on a book tour to promote it? What's he going on Letterman to do, discuss yoga studios and surf boards?
It's sad that the Dodgers gave this guy such a cush gig after he parted ways with the Yankees. Torre hasn't been anything special for LA and wasn't anything special his last five years with the Yanks. The Dodgers are slow to sign free agents but were quick to drop like 18 mil on Torre so fans could go watch him make a double-switch at games. And as I've already said, without quality talent — like Manny for instance — his teams are no better than any other team. Now the guy who was supposedly so professional in his handling of relationships and the media is letting readers in on the inner-circle of the Yanks? I probably will read the book because I want to see what it all says before I go any further here and because — let's face it — I'm running out of entertaining sports books at the library. So far Johnny Damon has defended A-Rod and Cashman says he's cool with Torre. I just thought Joe Torre was too classy and above telling outsiders about the inside dealings of the Yankees.