Obama Takes a Jab at Cubs Fans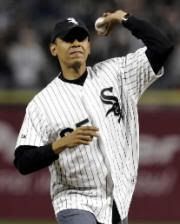 Presidential candidate Barack Obama recently sat down with ESPN's Stuart Scott for an interview that will air next week, I'm led to believe. There was one particular clip from the interview that can be construed as controversial. Eamonn Brennan at the brand new blog over at MOUTHPIECE SPORTS (we're on strict order to capitalize the name, and make sure to bookmark the page), shares Obama's remark:
Scott: "Who would you root for?

Obama: "Oh, that's easy. White Sox. I'm not one of these fair weather fans. You go to Wrigley Field, you have a beer, beautiful people up there. People aren't watching the game. It's not serious. White Sox, that's baseball. Southside."
I like people who speak their minds, especially when the remark has truth to it. I'm not going to pretend to be an expert on the demographics of Cubs and Sox fans, but his description fits in with the common stereotype. While I appreciate the honesty, Obama's not exactly doing himself any favors in terms of gaining the popular vote — everyone knows there are many more Cubs fans than Sox fans. Not sure if the remark was worth the street cred he gained.
(via Chicago Sun-Times)