The Rise and Fall of Bartolo Colon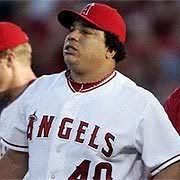 It's really amazing the way time flies by. Seeing contracts that were once monster free agent signings expire really blows your mind. Can you believe Manny's ginormous deal is almost up? Before you know it, you're gonna wake up one day in Spring Training and see your squad bringing in Barry Zito for a tryout since his once enormous seven-year deal is up. Crazy. With that in mind, I must bring up Bartolo Colon. The reports over the weekend were that the Red Sox had signed Bartolo to a minor-league deal. Just what, four years ago, Colon was one of the hottest arms on the free agent market getting a big-time four-year deal from the Angels for just over $50 mil. These days that's what the Mariners practically paid for Carlos Silva.
So Colon sucked in his first year with the Angels. About the only thing he did right was stay healthy, making 34 starts for 208 innings (he didn't last very long in most of them). He still won 18 games, largely because the Angels hit for him. Same story in 2005, but Bart was much better that year and won the Cy Young (though Johan Santana was superior). '06 and '07 were lost causes because of injury, and Colon's dumbass didn't get surgery to repair his rotator cuff in the off-season and wound up being useless last year. Now what, four years later, dude is back on the market again, and the best he can do is lock down a minor league deal?
It's truly amazing the way things change. That's how I know I'm starting to get old. The first sign was when players I grew up with began retiring. The past few weeks were another sign. You had the likes of Shannon Stewart, Mike Sweeney, and Bartolo Colon all signing minor league deals. Excuse me miss, but these dudes are All-Stars. Either that or I'm still stuck in 2003 or something. I always thought football players had short shelf lives. Remember Domanick Davis? That dude was a first-round fantasy pick scoring 10 touchdowns a season only three years ago. Now? You probably had to google his name. I'm starting to get the sense that baseball player shelf lives are shortening. I could be wrong, but I definitely think that's the case, and I'm really having a difficult time coping with that. Heck, it's not too far off from my favorite player, Garret Anderson, retiring. Now that will be freaky.
*On a differing note, it will only be too quickly when Gary Matthews Jr.'s contract expires. Only four more years, thank goodness.