Sean Rodriguez cooler memes, jokes, remixes are outstanding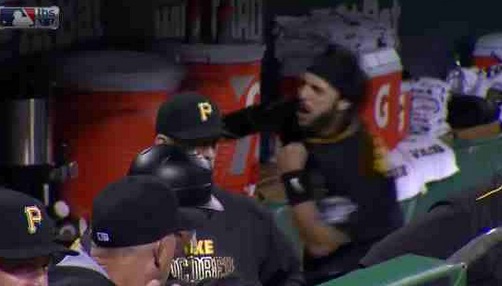 If you had your money on Sean Rodriguez becoming one of the most talked about players to emerge from the Cubs-Pirates wild card game, you are a genius and better fortune teller than Ms. Cleo. But that's what happened.
The Pirates infielder busted up a Gatorade cooler like a crazy person after a brawl between the Cubs and Pirates in the 7th inning of Chicago's 4-0 road win.
Much like everything else these days, the jokes, memes and remixes we got as a result are fantastic. See them all below.
Let's start with the awesome LL Cool J remix via Mike Oz:
The Super Punch Out remixes are excellent.
And the meme:
— Ryan Nanni (@celebrityhottub) October 8, 2015
And the best jokes:
Matt Williams would have sent the Gatorade jug back out. "He's our cooler."

— The Natidude (@TheNatidude) October 8, 2015
In all fairness, the Gatorade Cooler did date Matt Barnes' ex.

— Peter Burns (@PeterBurnsESPN) October 8, 2015
Floyd Mayweather has offered Gatorade Cooler a fight date in November at Caesars

— Jay Busbee (@jaybusbee) October 8, 2015
CRIS CARTER: The lack of leadership by the Gatorade cooler put it in a position to get hit lol why am I talking about baseball

— Mike Tunison (@xmasape) October 8, 2015
A man in a headband is about the least intimidating thing imaginable.

— Molly Knight (@molly_knight) October 8, 2015
GIF: Sean Rodriguez Float Like A Butterfly, Sting Like a Bee, lolll pic.twitter.com/NJ3sI7m1d4

— MarcusD (@_MarcusD_) October 8, 2015
if you dont think baseball players can fight, i must say rodriguez got the better of that cooler #tko

— Jon Heyman (@JonHeymanCBS) October 8, 2015
Sean Rodriguez is clearly a Powerade guy.

— Richard Deitsch (@richarddeitsch) October 8, 2015