Smoltz Wants Chipper to Sack Up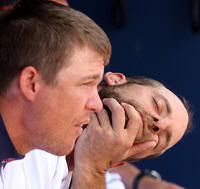 Nothing like one veteran team leader calling a fellow veteran team leader a pussy in so many words. That's basically what's going on in Atlanta, if you can read between the lines of John Smoltz's recent remarks. The stud pitcher, for whom I've already proclaimed my affection, made some comments after Friday's 5-0 loss to the Tigers which marked the Braves' third straight shutout loss. Smoltz seemed to be calling out the injured players who weren't making their way into the lineup :
"I certainly appreciate the effort of the guys who were on the field busting it. We all wish we were feeling better, but that's the way it goes. …

"We can't worry about who's in the lineup and who isn't. You can't worry about that stuff anymore. … The guys who are in there are busting their butts, that's all I know."
Chipper, who was already on the 15-day DL once this year, missed two games this week to nurse a sore groin. Jones noticed the comments and couldn't help but feel pressured to return to the lineup earlier than he would've liked, belting a home run to account for the Braves' lone run on Saturday. He also got in a nice jab back at Smoltz for good measure:
"I'll play the rest of the games this year and do what I can," Jones said, then followed it with a clear jab at Smoltz: "Somebody I know better not miss a start, though."
Far be it from me to question the grind and rigors of a grueling 162 game schedule, but I will say this: John Smoltz pitches the start after he dislocates a finger. John Smoltz made 33 and 35 starts in each of the past two seasons. Chipper Jones hasn't avoided the DL since 2003. Maybe it's fair to say that Smoltz is tougher than the average player, while Chipper is more injury-prone than the average player. I can understand where Smoltz is coming from considering his actions speak for themselves. And especially considering that Chipper's the best hitter on a team that's been offensively challenged recently, Jones should feel pressure to make his way into the lineup quicker. Advantage Smoltz.
(photo courtesy Joey Ivansco/AJC)