Umpire Tim Timmons Altered History with Randy Johnson's 300th Win
Randy Johnson's 300th win against the Nationals on Thursday got buried almost as much as you can bury such a huge accomplishment. It was supposed to happen the night before but rain postponed the game and the Nats lost out on what would have been one of their few decent crowds of the year, of course. His headline got pushed aside in favor of Game 1 in the NBA Finals and Game 4 of the Stanley Cup Finals. But in front of countless hundreds at Nationals Park, Johnson did get win number 300 of his career, throwing six innings of one-run ball. The Unit had to rely on his bullpen to preserve a 2-1 lead for a few innings and almost lost the win in the bottom of the 8th.
Brandon Medders and Jeremy Affeldt each put a man on before closer Brian Wilson was brought in for the four-out save. Wilson walked Ryan Zimmerman to load the bases and went to a full count on Adam Dunn. That's where history was altered by homeplate umpire Tim Timmons on this pitch: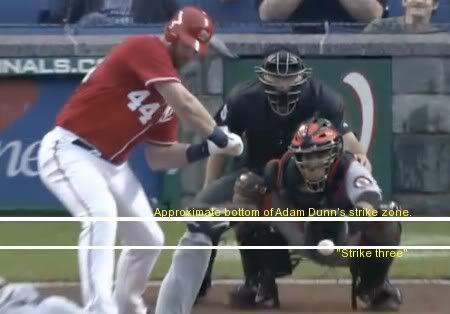 Some people say Dunn should have been swinging on such a close pitch, but I say the pitch was too low and clearly below his knees and should have been called a ball, regardless of the situation. The walk would have been an RBI for Dunn (who also leads MLB in walks) and tied the score at two, eliminating Randy Johnson from the decision. The Unit would have needed to go for win 300 his next time out, oh well. Instead, Timmons hesitated for a second as if to ponder the circumstance of the call, and then he pulled the trigger to help make history happen. Most people at Big League Stew agree with me that it still should have been called a ball because it was one. The Unit would have achieved the milestone regardless; Timmons shouldn't have tried to expedite the inevitable.
Lastly, since I'm sure you're all very eager to read my opinion on the matter, I'm still sticking by my words that there will never be another 300-game winner. At least not for another 20 years or until MLB changes to seven-inning games like high school. Then we might be talking.