Gil, Come to the Clippers, Part II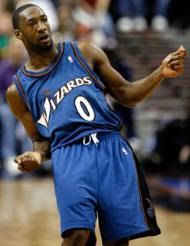 Aside from being a source of great humor, Gilbert's blog has actually provided some newsworthy content recently. For one, it helped him clarify the story that he was going to opt out of his current contract with the Wizards. Now, it's allowed him to explain another report about where he'd like to play. And I'm pleased to say that coming to LA is high on Gilbert's list:
When I told Complex.com that the L.A., San Antonio, Dallas and Houston would be cities that I would like to play in if I opt out, they all come after D.C. If something did happen weird where Antawn left and we lost our team and it wasn't a good situation for me to come back, those are the four cities that I would want to play in.

I would want to go back home and play in L.A. I would want to go to San Antonio because they're a championship-caliber team — same thing with Dallas. Houston is on the come-up with Yao Ming and Tracy McGrady. Three out of the four are contenders right now. That was my reasoning.
…
You never know, but the four teams I mentioned have a solid base. If anything happens with the Wizards, that's my Plan B.
There was a time when wanting to come to play in LA also fell into the same category as going to a contender. Funny how things work. One thing I think Gil is missing is that most of the teams he mentioned probably couldn't afford to take him on with the salary cap. Just a thought. But it sure would be nice to see Gilbert back in LA (sorry Wizards fans).