KG's Words Are Not for Ray Allen's Virgin Ears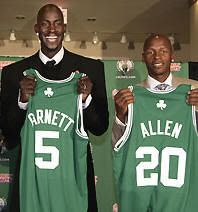 Now, had Ray Allen known that Kevin Garnett was going to start cussing up a storm like a pedophile caught with his wanger in a kiddie trap, he might not have welcomed a trade to Boston. Site contributer Chris, who last presented us with Smush Parker's rap song, informs me that Ray Allen is none too pleased with KG's choice of verbiage recently. From the St. Paul Pioneer Press:
Word in Boston is that the Celtics' Ray Allen was taken aback by some uncouth language used by Kevin Garnett during a practice, and he let the former Timberwolves star know about it.
Wait a tic, someone explain to me how playing with Robert Swift isn't considered offensive, but foul language is. My question: Exactly what kind of language could KG have possibly used that offended Ray so? Is it because they were in Europe and close to the Vatican? Did Ray get struck by a new religious movement? Perhaps he's seen the light! Can I get an amen to that? Amen!