Lakers Lose, Kobe Thinks He Wins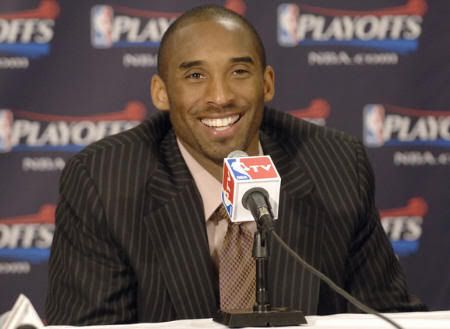 I'll admit it; you can lump me into the category of Kobe Hater when it comes to my thoughts on that ass rapist talented basketball player. I've been disgusted with Kobe Bryant from the moment he strolled into his high school's INDOOR gymnasium wearing sunglasses to the press conference where he would announce his eligibility for the NBA draft … at 18 years old. What a punk. That's why it was no surprise for me to hear that he was almost on trial for attempting to ass-bone some hotel clerk, then use the opportunity to fink on Shaq. Not to mention it was no surprise to see Kobe (indefensibly) stop shooting the ball last year in game 7 of the playoffs to prove a point. And guess what? That same spoiled brat showed up last night in Phoenix.
Kobe went 4/7 in the 1st quarter, 0/1 in the 2nd quarter, and 1/5 in the 3rd quarter last night. Dude didn't even attempt a shot in the 4th quarter as he mostly watched from the bench because the game was already over. So what happened in that second quarter Kobe? When your Lakers got run out of the gym, getting outscored 37-22, where were you? Why did you only take one shot? What were you trying to prove? That Luke Walton and Jordan Farmar would clank shots if you kicked it out to them? That your team would fall behind if you weren't shooting and scoring? We already knew that. You have nothing to prove to us.
But you do have something to prove to your fans and your organization — that you won't let them down and won't let them get embarrassed in a playoff game — which is what happened last night. And while you think you have gotten your message across to every one — emphatically punctuating your point by twice mentioning the discrepancy in talent between the teams in your post game press conference — it is not you who wins the struggle, it is both you and your team who loses.
Perhaps Kobe, you're missing the reason why you're out there. You're there to make your team a winner, against incredible odds. Not to clam up in the second quarter of a game in order to make your teammates and franchise look bad, and justify your shooting sprees in the media's eyes. When you fail to try and win in the second quarter of a playoff game, you are not sending a message to the media that you deserve to take all your teams shots. You are sending the message that you are a loser, not a winner.