LeBron James Is a Charitable Type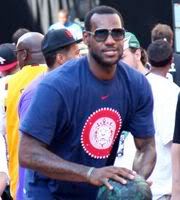 As the free agency frenzy rolls on throughout the summer, it appears as if we may have a key announcement coming in the near future. LeBron James supposedly is negotiating with ESPN to create a one-hour LeBron James selection show special. Putting aside how odd it is that an ESPN writer is reporting a story about the plans of his own network but can't get confirmation all the while he's talking on their airwaves, there are a few positives to come of all this. It's not just that the media, fans, and cities involved will finally learn the answer to the question they've been asking the past two years, it's that, to quote Cher from Clueless, LeBron James is using his popularity for a good cause.
According to the report, LeBron wants his marketing team to have the ability to sell the ads on the show. The reported intention is to give the proceeds to the Boys and Girls Club. Call me a sucker if you must, but I actually think that's a very cool thing to do. You might despise him because he has kept us all hostage to his announcement but LeBron does not have to share that money with anyone. Instead, he'll be indirectly running one of the best telethons possible.
With LeBron's marketing team creating a twitter account on Tuesday, revamping his website, and the NBA using him to promote their product through social media, I'm actually surprised they're trying to schedule this thing to go down so quickly. If I were running his P.R. squad I would let the whole situation marinate for a few more days before announcing things. I guess you can say they're doing a favor to MLB by not stealing the All-Star Game's attention. Not to mention, they'll be doing great things for an excellent charity, which is something most athletes wouldn't think to do.
Sources:
Sources: LeBron decision Thursday [ESPN]