LeBron's Skills Academy: Where None of Us Are Witnesses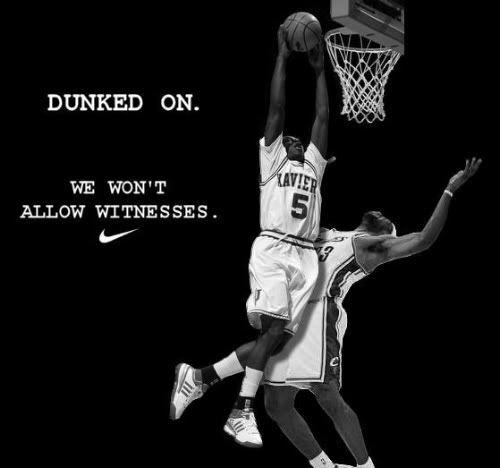 I saw the above photoshop job over at Mouthpiece Sports and just couldn't resist posting it. Of course that picture is a response to the story that Nike officials bullied a camera guy to take away his tape after he recorded LeBron James getting dunked on. This marks the second time in six weeks that the unblemished King used poor judgment. Here's the deal: we're not living in Communist Russia — censorship is not taken while in the U.S. (thank goodness). We don't like being in the dark on matters or being lied to (unless it's your team's player hitting a juiced homer).
Controlling ones image is important when it comes to making decisions about driving drunk, nailing 20-year-olds when you're married, or making it rain at a club; you can't guard an image when it comes to play on the court — you have to let that go. And last time I checked, Dwight Howard and Devin Harris both had their likability rise when they let someone school them in a fun setting. That's weak sauce LeBron, weak sauce.