Steph Curry's mom scolded him for using foul language in Game 3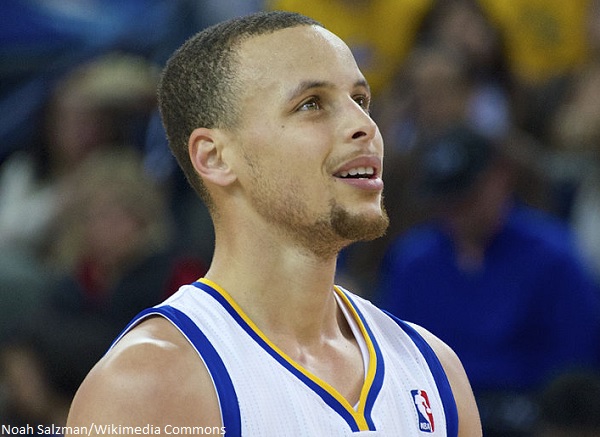 Stephen Curry broke out of his slump in a big way on Sunday night, leading the Golden State Warriors to a blowout win over the Houston Rockets with 35 points. At one point during the third quarter, Curry was so fired up he let an F-bomb fly while pumping up the crowd. His mom was not pleased.
Curry scored 18 of his game-high 35 points in the third quarter, and he turned to the Oracle Arena crowd after a driving layup during that explosion and yelled "this is my f—ing house!" The two-time MVP said after the game that he "blacked out" at that moment, but his mother Sonya let him hear about it.
"She already sent me two home videos, showing me the clip and playing it back," Curry told ESPN's Chris Haynes after the Game 3 victory. "She was telling me how I need to wash my mouth out, saying to wash it out with soap. It's a message I've heard before."
Curry, whose 5-year-old daughter Riley was in attendance, agreed with his mom.
"She's right," he said. "I gotta do better. I can't talk like that."
Curry struggled through the first two games of the Western Conference Finals and was criticized for it, so you can understand why his emotions overflowed during Game 3. Though, he claims the naysayers gave him no added motivation.
"A lot of it was just [me] talking to myself, almost like you've got to be your biggest fan sometimes," Curry said. "No matter what questions I was being asked over the first two games or what the expectations was, I had the highest expectations for myself. And you've just got to — find whatever you want to get going. I mean, obviously, it felt good, and you want to use that energy to show your teammates that you're here, you're with them, get the crowd into it. But it's one game, and you've got to have that same type of energy and intentions and focus the next game and the right approach. So, I did my job tonight. I've got to do it again."
Considering the way he was mocked on social for his poor performance in Game 2, we find it hard to believe Curry's F-bomb had nothing to do with all those who doubted him.