Manny Pacquiao Turned to Boxing After His Dad Ate His Dog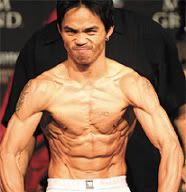 Weird title, hard to comprehend, but believe me, have patience and you'll understand. Manny Pacquiao, now the top pound-for-pound fighter in the world preparing for a match with Ricky Hatton, grew up as a poor kid in the Philippines. Things can get pretty grim there as jobs aren't easy to find and mostly low-paying. Pacquiao knows that pretty well considering he used to sell doughnuts and cigarettes in the streets to try and get by. And how did he get into boxing? His trainer, Freddie Roach, explained to the Daily Star:
Freddie Roach has revealed Pacquiao only turned to boxing after his hungry dad Rosalio tucked into his pet dog.

He said: "That's why Manny ran away from home and became a boxer. He saw his dad eat his dog.

"The Philippines is a poor place, there's no welfare, no health system and if you don't have a job or money then …

"Manny was 14. He was very upset and that's why he ran away from home. He ran away to Manila and ended up in a boxing gym.
Well, I guess that might do it for me, too. I'm pretty surprised to hear how ruthless the father was. You telling me there wasn't any stray game around for him to poach? I wonder if Pacquiao has seen or talked to his father since. That's a pretty gross story — definitely a classic.
(via Fark)