Could Danica Patrick Replace Dale Earnhardt Jr. at Hendrick Motorsports?
We've heard for a while about the possibility that Danica Patrick leaves Indy Car for NASCAR. Even though she signed with Andretti Green Racing, she has signed on with IMG to work her next contract. They've been shopping her around to all the NASCAR teams and apparently Hendrick Motorsports and Chevrolet are the favorites to sign her. Now if Patrick has hired IMG to work her next deal it's pretty clear that she wants to maximize her value and the way to do that is switch to NASCAR from IRL. And if Hendrick takes her on, they'll need to get rid of one of their drivers.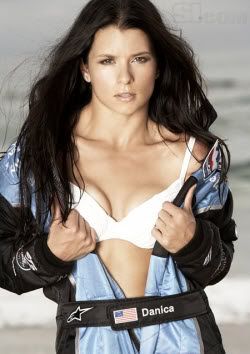 Hendrick currently has four cars in the Sprint Cup Series. Jimmie Johnson who won the last three Sprint Cups, Jeff Gordon who's currently second in points, ageless wonder Mark Martin, and Dale Earnhardt Jr. Martin's turned things around recently by winning three races, getting into victory lane for the first time in several years. The only driver of the group who's been struggling is Little E who even had to fire his cousin as crew chief recently. Translation: if Hendrick signs Patrick, Earnhardt could be odd man out. Could you imagine that? Little E replaced by a girl???
(via Fark) Plus Obligatory Danica pics