Free Throws Finally Burn Memphis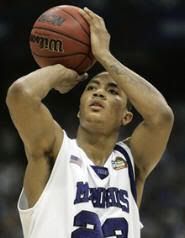 Amongst other issues. That was quite the final eight minutes (including the OT). First off, much props are inline for Jason, the co-founder of the excellent sports/fan networking site Ballhype, who easily won the LBS March Madness Pool by being the only person to correctly predict the participants of the Championship Game. Quite impressive, Jason. Jason had Memphis winning so he probably was counting his money with about 130 seconds to go and the Tigers up by nine. There were several factors that contributed to the Kansas comeback, and I'm delighted to elaborate.
Joey Dorsey fouled out, leaving the middle open for Darrell Arthur. Mario Chalmers made his free throws, not to mention a small, tiny little three-pointer. They also made a great steal on an inbounds pass under the basket and Sherron Collins cashed it in with a three-pointer. But just when people thought Memphis had turned the corner when it came to free-throw shooting, they tanked. CDR and Dozier made two apiece to help build the nine-point lead. But then things came crashing down. CDR missed the front-end of a one-and-one, and followed that up by missing two more free throws in the double bonus with his team only up one. He makes one or two and his team is safe and sound. Instead, he bricked them both, leaving the pressure on Derrick Rose. Rose then hit one of two, keeping it at a one possession game.
The last 10 seconds of the game are then a mystery — from the Memphis side. Give Clark Kellogg credit for saying it — why didn't the Tigers foul with five or six seconds left in order to eliminate the chance of a game-tying three-pointer? They foul, it goes to the line, and then Memphis gets the ball back and wins. It's the exact same strategy Bruce Pearl used to beat Memphis in their only prior defeat. Calipari says they were trying to foul, but I didn't see it. Maybe he thought so, but maybe his players were on a different wavelength. Anyway, much like I said in my reflections on the UCLA loss, free throws would eventually come back to burn Memphis. And congrats to Jason for winning the pool.