Michael Beasley Delivers on Guarantee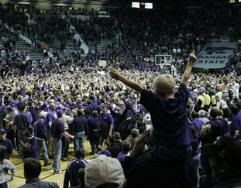 To watch Michael Beasley play is amazing. I raved similarly last year about Kevin Durant, and that's turned out pretty well. Beasley is incredible to watch; he's the nation's leading rebounder who, oh by the way, also happened to go 4-for-4 from long distance Wednesday night against Kansas. This guy is awesome. If you haven't seen the double-double machine play, you must. And best part of all, not only is he cocky and confident, but he also delivers. Prior to Wednesday night's clash between K-State and KU (comments made in the pre-season I believe), Beasley had this to say:
"We're going to beat Kansas at home. We're going to beat them their house. We're going to beat them in Africa. Wherever we play, we're going to beat them," he has said.
Well, one up and one down so far. Now he needs to win at KU as well. If that happens, I say we get a movement going to ship these fools out to Africa for a freaking game. The Rumble in the Jungle, baby. But getting back to it, you have to watch Beasley play if you haven't yet — he's awesome and he's earned the right to talk.