UCLA Rocks, Reaches 100th National Title in School History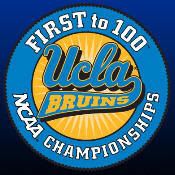 That's right, since I'm a proud UCLA alum, I must boast to the world when my school achieves something quite notable — you know, just like a proud parent showing off pictures of their ugly ass kid that nobody cares to see. On Sunday, the UCLA women's water polo team defeated Stanford 5-4 to capture their third consecutive national title, ninth overall, and 100th by the university. Stanford is the next closest school with 93 titles. And so all my Trojan friends don't get bent out of shape, USC is third with 84. Hmm, must be a California thing. And I couldn't be more proud as this proves once again, that UCLA is the finest all-around school in the country. Yeaah boy.
And I will not subject you to any further women's water polo coverage — that is, unless my new girl Keeley Hazell takes up the sport.