Steve Spurrier Gets Political with Confederate Flag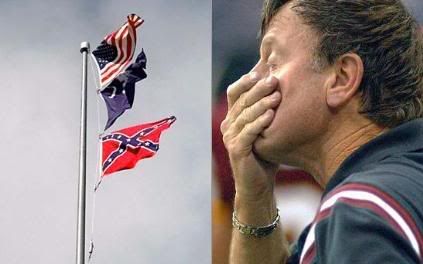 Apparently Steve Spurrier pays attention to the background scene of ESPN's GameDay set because he felt it was 'embarrassing' that someone was waving a Confederate flag around in the background of the pregame show when the Gamecocks took on the Vols. Spurrier's political statement didn't stop there either:
"It would make us a more progressive, better state, I think, if the flag was removed. But I'm not going to go on any big campaign to have it removed. That's not my position," Spurrier said in an interview with The State. "But if anyone were to ask me, that would certainly be my position. And I think everyone in there, it was their position, too."
Considering the South lost the Civil War only over a century ago, I'd say getting rid of the Confederate flag is probably the right thing to do. Even though South Carolina moved the Confederate flag from the top of the dome to the grounds recently, some of the politicians aren't too cozy to the idea of getting rid of the flag entirely.
Sen. Robert Ford, D-Charleston, who sponsored the bill that moved the flag from the dome to the grounds, said Spurrier's timing was "100 percent wrong," given the presidential campaigns coming through the state. Candidates have more important issues, Ford said. "He threw a monkey wrench in this campaign and I don't like it," Ford said. "It don't look right. It don't sound right. It don't feel right."

…

[Don] Gordon, a state officer with the Sons of Confederate Veterans, said Spurrier's call for the removal of the flag was "the moral equivalent of calling our ancestors 'nappy-headed hos.'"
Wow, now that's some serious business. There's no question the Confederate flag means a lot to South Carolina but come on, to compare it to Imus' remarks? Now I know why it's hard to suggest the state pulls down the flag, there's almost no room for negotiation when one applies that type of logic.