Greatest Sports Contest Ever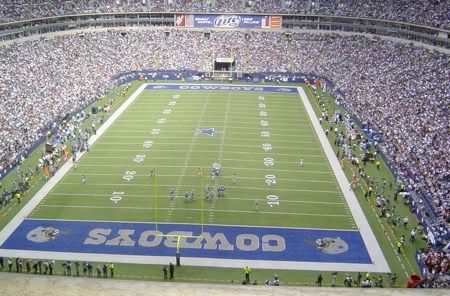 One of the biggest hits here at LBS came last year when we got a hold of a video showing the RCA Dome in Indianapolis getting blown to smithereens. Lucas Oil Stadium had been built by then so there wasn't much of a use for the RCA Dome after that. A similar situation is going on with the Cowboys who moved from their old home in Irving to their new home in Arlington. With Jerry World in full effect — low-hanging scoreboard and all — there isn't much of a use for Texas Stadium. Naturally they've decided to do what any sane person would do to a useless stadium — blow it up. And Kraft Foods is holding a contest to see who receives the honor of jumping on the dynamite lever!
As part of the deal, Kraft will pay Irving a $75,000 sponsorship fee prior to the demolition for charities selected by the city. The company will also provide worth of $75,000 Kraft products for local charities of its choosing.

Next week, Kraft will launch a national essay contest for children as part of its promotional campaign … the winner will get to trigger the detonator at the public demolition.
Count me in. I don't care what needs to be done to win this contest … I will do it. I've been dying for a Wile E. Coyote moment my entire life and this could be it! Greatest contest ever!