Bengals Disgrace Themselves by Signing Pacman Jones, Have Lost Me as a Fan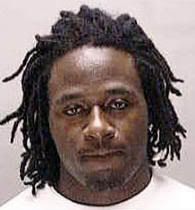 Three years ago I mocked the Bengals because their players couldn't stay out of trouble by ranking their players' arrests based on the crime. After bad boys Chris Henry and Odell Thurman were heavily suspended by the NFL, I figured the Bengals would learn not to harbor poor character guys for fear they wouldn't be able to make it onto the field. Clearly that was nothing more than a hope, because the Bengals proceeded to take players with major character issues in each of the past three drafts. 2008 pick Jason Shirley was kicked off his college team and arrested for DUI, 2009 pick Bernard Scott had been arrested five times, and 2010 second-round pick Carlos Dunlap got popped for DUI the week of the SEC Championship game. As if that wasn't enough, the Bengals brought on Cowboys castoff and firearms dealer Tank Johnson who's managed to stay out of trouble, Larry Johnson who had several assault arrests in Kansas City, and Cedric Benson who worked out nicely for the club.
Cincinnati must have been convinced that they were doing the Lord's work, because the recent success of the team got to their head and they decided to do the stupidest thing I could imagine this off-season. The Bengals brought in cocaine user and all-around idiot Matt Jones and strip club addict and trouble magnet Pacman Jones for workouts. They signed Jones but were initially unimpressed with Pacman. A few months later, they agreed on a two-year deal with Pacman Jones who's set to sign this week.
I can tolerate questionable character guys under a few conditions. The first factor is talent and skill level. If the guy's really good, then sometimes it's worth taking a chance on him depending on what it will cost you in a trade, free agency, or the draft. The other factor is the level of character issues. Repeated arrests for getting into fights, DUIs, and smoking weed is totally different from having a reputation for being late to meetings. When you take a player who falls into the first category of character issues, you have to prepare yourself for potential league suspensions so the upside has to be really high. When you take a player who falls in between categories, like Cedric Benson, you have to hope that you (or he) can change his ways, as Ced did. The problem with Pacman Jones, as if his multiple arrests and suspension from 22 NFL games doesn't say enough, is that he doesn't have the talent that can outweigh his character issues anymore (I'm not sure any level of talent could outweigh what he's done).
Even when Pacman was a playmaker and game-changer for the Titans, they had to get rid of him because he was getting into trouble every other week and he was embarrassing the city of Nashville and the Tennessee Titans franchise. Even when he was given a second chance in Dallas and was babied under the watchful eye of Deion Sanders and Michael Irvin, Pacman still couldn't go more than a few months without getting into a fight. To make matters worse, he was a total non-factor on the field. Pacman was slow, injury-prone, poor in coverage, and just an ordinary return man. Given all this information, not to mention the way Pacman burned his own bridge to the CFL, why on Earth would the Bengals give him a two-year contract? I'd have a hard enough time justifying the signing of a player with Tom Brady's ability if he had the rap sheet of Pacman, but Pacman isn't even good anymore. Why even bother wasting valuable time and energy on him?
Once again, the Bengals have taken it upon themselves to ruin the franchise by sullying the locker room with nothing but trouble-making jerks. They have thoroughly disgraced themselves and have officially lost a fan once and for all. Matt Jones was bad enough, Pacman Jones has sent me past my tipping point. When the heck is LA getting a team??