Matt Jones Spells Bust C.O.C.A.I.N.E.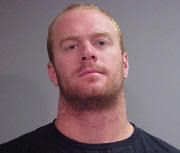 Apparently making money and being a first-round draft pick is all some people need to be happy in life. Oh yeah, that, and some dried up plants, white powder, and a few credit cards. We're well late on this story as it got reported Thursday morning, but negative news pertaining to Matt Jones must not slip through the mindful watchdog eyes of LBS. Matt Jones officially laid claim to "bust" status getting arrested for felony drug possession on Thursday in Fayatteville. Matty J was detained on $2500 bond which he should be able to make without a problem given all his signing bonus money. He was caught in his car with a few dudes chopping lines of coke with a credit card, and also busted for weed at the same time. What a loser.
I'm so pleased to read this story not for the Jaguars' sake, but because it brings some closure to the Matt Jones story. See, you really can't fully appreciate the Matt Jones story if you weren't a FOX Sports Radio listener or employee at the time of the 2005 draft. At that time, Jones was nothing more than a lowly Arkansas quarterback who was the star athlete on a weak team. Nobody really heard of him, and he certainly didn't have a future in the NFL as a quarterback. But all of a sudden he became a combine stud who the scouts fell in love with because he's tall (6'5″), ran a great 40, and could jump. Next thing you knew there was talk about Jones rising up draft boards. All of a sudden, for like three solid months leading into the NFL draft, the phone lines were flooded with Hog fans from Arkansas wanting to talk and brag about Matt Jones. "Hey, what you think about Matt Jones! Where you think Matt Jones is going to go? Woo, pig sooey, Matt Jones!" Honestly, Matt Jones practically became the network mascot. And god bless those hog fans, they were so cute the way they cherished Jones.
So yeah, when draft day did come around, the Jags used a late first-round pick to take a guy who had no position in the NFL and no receiving experience. Jones has shown flashes of being good, but he's been a completely inconsistent stiff, catching just 101 passes and 13 touchdowns in three seasons. So, I put it to you now, Hog fans, what you think of your boy Matt Jones? A complete bust, just like we knew he'd be. But thanks for all those phone calls! You sure made times enjoyable!