Chinese Call it American Style Olive Shaped Ball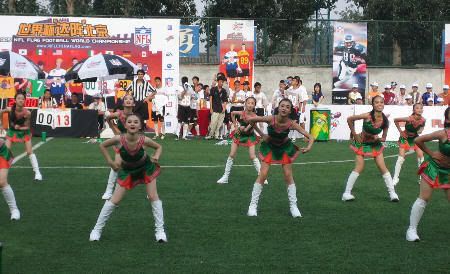 The Patriots are apparently on a promotional tour in China, trying to sell the NFL to Yao's people. I remember how hard it was for me to pick up football when I was young. You can tell one team is on offense and another is on defense. But seriously, they have rules for everything, and then the whole 1st and 10, 3rd and 6, 4th and 5 thing gets really confusing for a five-year-old. I couldn't even imagine what it's like in a foreign language. You know, like Chinese:
"We've had to come up with an entirely new nomenclature for the sport," Gordon Smeaton, an NFL vice president, said yesterday on a promotional tour with the Patriots. "This is a situation we don't face in any other country and it will take some time."

In Chinese the game is known as "Mei shi gan lan qiu," which can mean "American-style rugby" or "American-style olive-shaped ball," depending on the translation.
Cool, American-style olive-shaped ball rules. I was aware about the NFL's plans to expand to Europe, but China? Are you serious? Wow. When's it going to end?