Father's Day at the Braylon Edwards Household Should be Interesting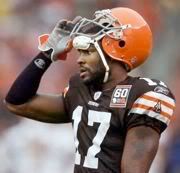 The Jets are into the AFC Championship to the surprise of many people (myself included), and they're still playing the we don't get any respect card. Darrelle Revis continues to play like an MVP, the defense has been stifling, the o-line is killing it, and Shonn Greene's fresh legs are carrying the team to wins. And Braylon Edwards is along for the ride. Edwards was a top pick in the draft, finally lived up to the hype by scoring 16 touchdowns three seasons ago, but he was plagued by drops last year and this year. Braylon dropped five passes this year according to Pro Football Focus which places him around the middle of the pack for receivers. The problem is that Braylon's drops have been extremely high profile including his sure touchdown that hit him in the helmet on Thursday night in prime time, the end zone drop in the playoffs against the Bengals, and even a drop in warmups. As a result, Braylon has developed a reputation as a guy with bad hands. Even his dad piled on when interviewed by the Newark Star-Ledger last week:
"Am I worried about him getting a reputation for dropping the football?" Stan Edwards asked this week from suburban Detroit. "No. Because let's be honest — he's earned it. It's mind-boggling. He'll make catches that nobody else in the game will make. It's not making a difficult catch. He'll make a borderline impossible catch! And then he'll drop one on a simple route."
This story was actually written last week when the writer suggested the Jets needed a big game out of Edwards to beat the Chargers. Braylon had two catches for 41 yards so it seems that they were able to win without him having a big game. Back when he was acquired by New York, it was suggested that he was exactly what the Jets needed to bolster their offense and help stretch the field. That was exactly what the Jets needed and Braylon can be that guy, he just hasn't converted the big plays yet. Once he starts hanging onto those passes, the Jets will be tough on both sides of the ball and an even scarier team. And then Father's Day at the Edwards home might be more bearable.
Story via Pro Football Talk