Jared Allen on NFL rules: 'My knee is just as valuable as Tom Brady's'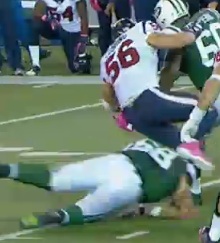 Monday night, Texans linebacker Brian Cushing suffered a torn ACL after a cut block was thrown on him by Jets offensive guard Matt Slauson. It was a cheap shot, as Slauson dove at Cushing's legs from behind and he never saw it coming. Since that play, a number of defensive players have criticized the NFL for not protecting defenses in the same way it protects so-called "skill players." Unsurprisingly, Jared Allen has formed an opinion on the topic.
"In a league that talks about taking care of defenseless players and people in defenseless positions, that's a situation right there, there's nothing you can do to defend yourself," the Vikings defensive end said according to Around the League. "He can't get his hands down – that's an outside end cut block. For me, there's no place (for) that. You take a guy's knee, he may never be the same player after that. If we're going to talk about player safety, there needs to be equality amongst all players.
"My knee is just as valuable as Tom Brady's, in my eyes. There's some hits on the defensive side that could be illegal and probably save some defensive players."
Slauson was fined $10,000 for the hit, but Cushing's entire season is lost. Had the hit involved a quarterback, you have to assume the fine would have been heftier and Slauson — who ironically called someone a dirty player last season — could have even faced a suspension. In that sense, Allen is right. Offensive players may find themselves more vulnerable than defensive players at times, but if the league is aiming to protect players it needs to protect them on both sides of the ball.