Matt Slauson, who cheap-shotted Brian Cushing, ripped Ndamukong Suh last year for being dirty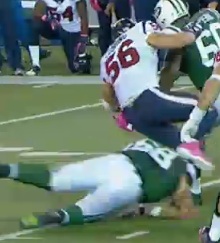 Jets offensive tackle Matt Slauson may have knocked Texans linebacker Brian Cushing out for the season by diving at his legs from behind on Monday night.
Cushing was pursuing Jets running back Bilal Powell on a running play in the second quarter when Slauson dove at him from behind with a cut block that caused Cushing's left knee to buckle. Texans reporter John McClain said Cushing appeared to be done for the season with a torn ACL.
In an ironic twist, as our friend Mark Rafferty pointed out, Slauson is the same player who ripped Ndamukong Suh last season for being a dirty player.
"Somebody needs to get him under control, because he's trying to hurt people," Slauson said of Suh last November. "It's one thing to be an incredibly physical player and a tenacious player, but it's another thing to set out to end that guy's career.
"I'm all for physicality, but within the framework of the game," Slauson told the New York Post. "I know it takes a different type of person to be a defensive lineman — you've kinda got to be a jerk who wants to take the quarterback's head off. But you [shouldn't] literally want to kill them like he does."
So did Slauson's chop block at the knees fall within the framework of the game? Does that not qualify as "trying to hurt people"? Maybe Slauson should realize that players do some things they're not proud of during the heat of the game. And maybe he should apologize for his questionable play.