Michael Strahan: I'll Be Ready for Week One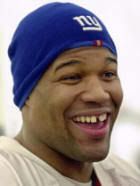 There's been much to do about Michael Strahan this off-season and throughout training camp. A lot of people are wondering whether or not the guy will play for the Giants this year since he hasn't reported to camp. Well, Strahan came on FOX Sports Radio Saturday night with Michael Irvin and Brian Webber, and he had a lot to say.
For one, Strahan said he hadn't spoken to GM Jerry Reese in over a week. Strahan insisted that money is not the reason he hasn't reported to camp, adding that he's losing around $15,000 every day of camp he misses. Much like Tiki Barber complained last year, Michael said he's tired of having his body beat up during the week after playing games on the weekend. Strahan also said that Tom Coughlin would have him down to just one practice a day if he were to report to camp. But here's what stood out to me most — would Strahan be ready week one even if he didn't report to camp? His answer:
If I have to, I'll definitely be ready to play week one. If I go in right before the game, of course you want to hit some people — I think I probably have to make my decision before that — at least I would like to so that my body could get acclimated. As far as cardio and lifting and strength and all that, I'll be where I need to be.
So there you go, the big man says he's good to go. That was my biggest concern — does he really think he's able to play week one if he doesn't report to camp at all? According to him, yes. I know he's a pro, and I know he's a Hall of Famer, but I'm not so sure he'd be good to go week one without going to camp.
*****
NFL Picks against the Daily NFL Odds can be found at Maddux Sports. Weekly College Football Picks are also offered!